Addiction Treatment Center Dining
Delight in dietician-designed and chef-prepared dishes. Our meals are prepared from fresh and wholesome ingredients in our gourmet kitchen. Breakfast, lunch, a snack, and dinner are served daily.
New Choices Treatment Center believes in a whole person approach to recovery. As a result we have employed a healthy eating initiative at our River Walk Café. This initiative involves utilizing a whole foods nutrition plan. The whole food nutrition plan consists of eating food that is all natural, unprocessed, additive-free, with no artificial ingredients. Many studies have found that a diet with healthy whole foods like fruits, vegetables, whole grains, and lean proteins are associated with a reduced risk of obesity and diseases, such as cardiovascular disease, many types of cancer, and type 2 diabetes. Recent research also indicates that a balanced diet and regular exercise can also protect the brain and ward of many mental disorders. "Food is like a pharmaceutical compound that affects the brain," says Fernando Gomez-Pinilla, a UCLA professor of neurosurgery. A whole food nutrition plan has been shown to reduce the symptoms of mental health disorders such as depression and anxiety.
Emerging research has implicated healthy nutrition in the treatment of substance use disorder. Substance use disorder affects the body in many ways, including metabolism, organ function, and mental wellbeing. Proper nutrition has been show to help the healing process. It does this by nourishing and healing the body, stabilizing mood, reducing stress, and reducing the cravings for alcohol and drugs. Dr. Alyssa Salz notes, "Proper nutrition and hydration are key to the substance abuse healing process because they help restore physical and mental health and improve the chance of recovery. Macro- and micronutrient deficiencies can lead to symptoms of depression, anxiety, and low energy, all of which can lead someone to start using drugs or alcohol or trigger a relapse."
Menu Example

Breakfast:
Continental
Variety of Breakfast Cereals
Oatmeal
Fresh Fruits
Hard Boiled Eggs
Greek or Low-Fat Yogurt
Variety of Breakfast Pastries or Breads
Milk
Hot Teas
Coffee

Lunch:
BLT Sandwich, Tomato Soup, and Fruit
Applewood Smoked Bacon
Fresh Assorted Greens
Thick-Sliced Tomato and Avocado Seasoned with Salt and Pepper, Topped with Herb Mayo, and Served on Toasted Country Sourdough Bread
Vine-Ripened California Tomato-Basil Soup and Seasonal Fresh Fruit
Dinner:




Chicken Alfredo, green beans, and garlic bread
Sliced, Grilled Chicken with Our Signature Alfredo Sauce over Al Dente Fettuccine Pasta
French Cut Green Beans with Slivered Almonds Perfectly Toasted in Butter and Lemon Juice
Freshly Baked, Toasted Garlic-Infused French Bread
Snack:

Veggies and Pretzels served with hummus
Locally Sourced Seasonal Vegetables (when available)
Lightly Salted Pretzels
Hand-Crafted, Chickpea-Based Hummus with Lime Juice, Garlic, and Extra Virgin Olive Oil
* Have an allergy? We have allergy friendly dietician-designed alternatives we can prepare for you.
Fresh Ingredients. Exceptional Setting.
Our interior design team crafted the gourmet kitchen to create an exceptional experience for you each day. From the granite countertops and subway tiles to the hydration center and island eating area, you'll enjoy creating lasting friendships while you snack on vegetables grown in our European-style courtyard right outside the door.
Time to Reflect.
Opportunities to Engage.
Whether you prefer quiet mornings or social interactions, you'll have the option to enjoy breakfast wherever you'd like – in your apartment, in the group dining room, or out in the courtyard. At lunch and dinner, you will share meals with the other guests in our spacious group dining room. This will give you the opportunity to get to know one another while developing strong bonds that lead to lifetime friendships.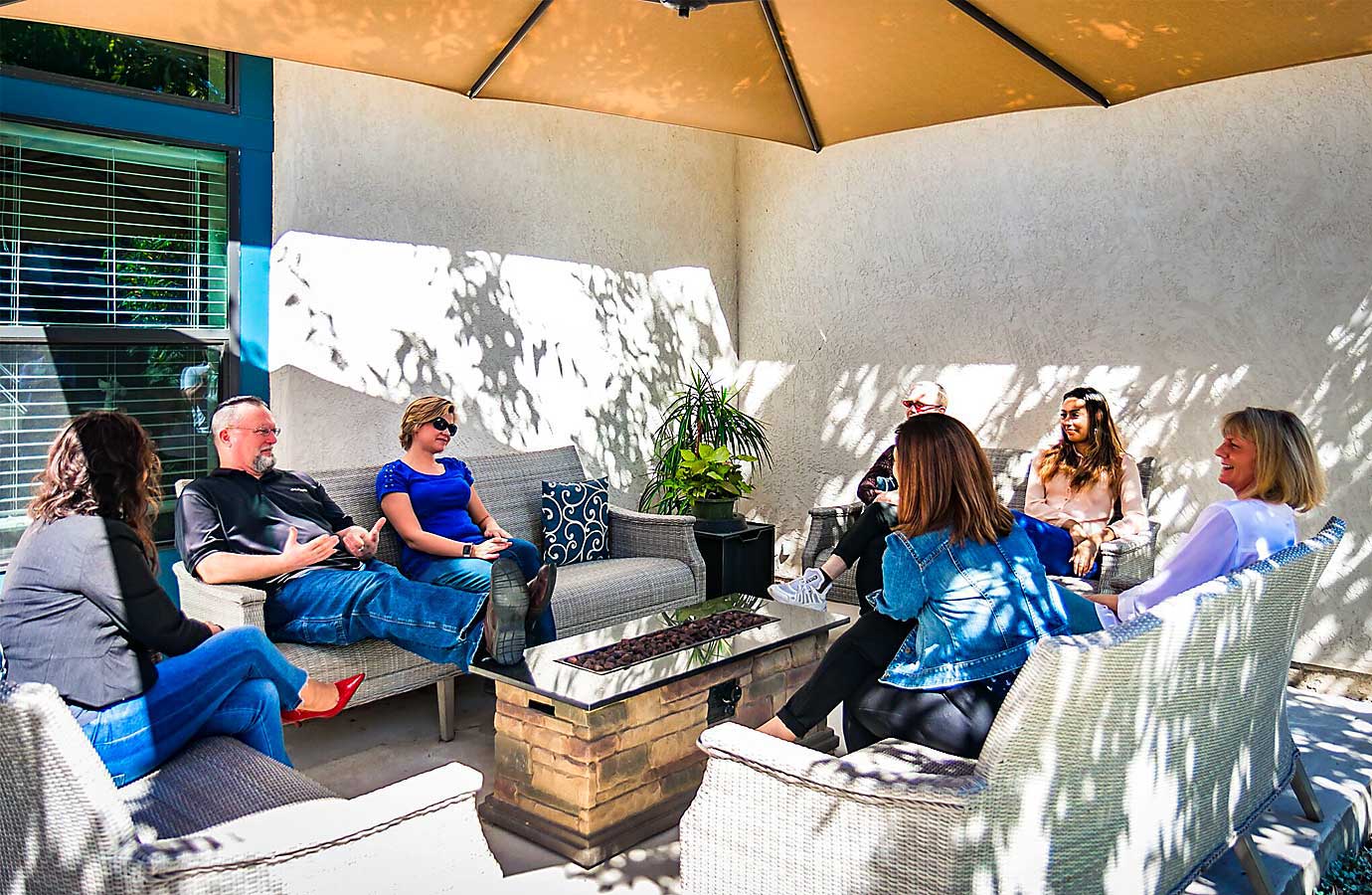 Schedule a Tour
Visit our treatment center in person